Give your Audi a thorough check-up to make sure it's working at its finest. The entire service process takes place in a completely sanitized environment. What's more, a fantastic range of benefits await you:

1. Complimentary lube service for all cars 5 years or older

2. 10% savings on Audi Genuine Accessories and Collections

3. 20% saving on brake pads, brake discs and sensors

4. 20% savings on Service Plans and Comprehensive Plans

5. 20% savings on Extended Warranty

6. 50% savings on myAudi Connect service
Getting back to pace has never been easier with the Audi #ReadyToDrive initiative where there are six comprehensive offers with benefits and savings to take care of your Audi as you get ready to begin again. This is all to give you the advantage while we make sure your Audi is performing at its finest. More so, these checks would be performed by expert Audi trained technicians using Audi Genuine Parts. All this from the comfort of your home while your Vehicle goes through the entire service process in a completely sanitized environment.
Complimentary lube service for all cars 5 years or older
Regular oil changes are a critical maintenance item in ensuring your car's engine runs properly and will have a long life, not doing so in a timely manner can affect your Audi's performance and fuel economy. To emphasize our commitment to the optimum performance of your Audi we give a complimentary change of oil on any Audi which is 5 years or older. Do you still need a reason to come in?
10% Savings on Audi Genuine Accessories and Collections
Feel the freshness while you drive with an exciting range of Audi Genuine Accessories and Collections. Get your style on with exclusive Audi merchandize which is now available online and at Audi Authorized dealership, show us some love and let Audi be sported on your sleeve. All this for a limited period offering where you get a 10% saving.
Check out the range at Audi Shop
20% Saving on brake pads, brake discs and sensors
Don't break the bank over the Brake pads.
Maintenance of Brake pads, brake discs along with sensors is obvious but let us keep an eye on your brake pads while you keep an eye on the road ahead. Be it a replacement, we've got you covered with a 20% saving.


20% savings on Service Plans (including Comprehensive Service Plans)
Give your Audi some much needed tender loving care from the experts which would lead to typically higher resale value. Audi service plans are designed to provide highest level of service at an attractive rate without compromising on quality and reliability, this is now further reduced by 20% for a limited period.


20% Savings on Extended Warranty*
Nothing beats the extended warranty which gives you a comprehensive protection into 3rd, 4th and 5th years. This extension of the manufacturer warranty on your Audi is nothing but pure peace-of-mind.
* Only cars under 2 years from date of delivery are eligible for this support.
50% Savings on myAudi Connect Service
Stay connected to your Audi 100% of the time at 50% of the price.
Some of the key features of myAudi Connect are:
Telematics (Track your Audi)
Driver behavior analysis
Audi concierge
Geo-locational features (Boundary alerts)
Service history.
We have some more features:
Trip History
Vehicle Health
Alerts (Speed, Idle)
Audi Club India membership.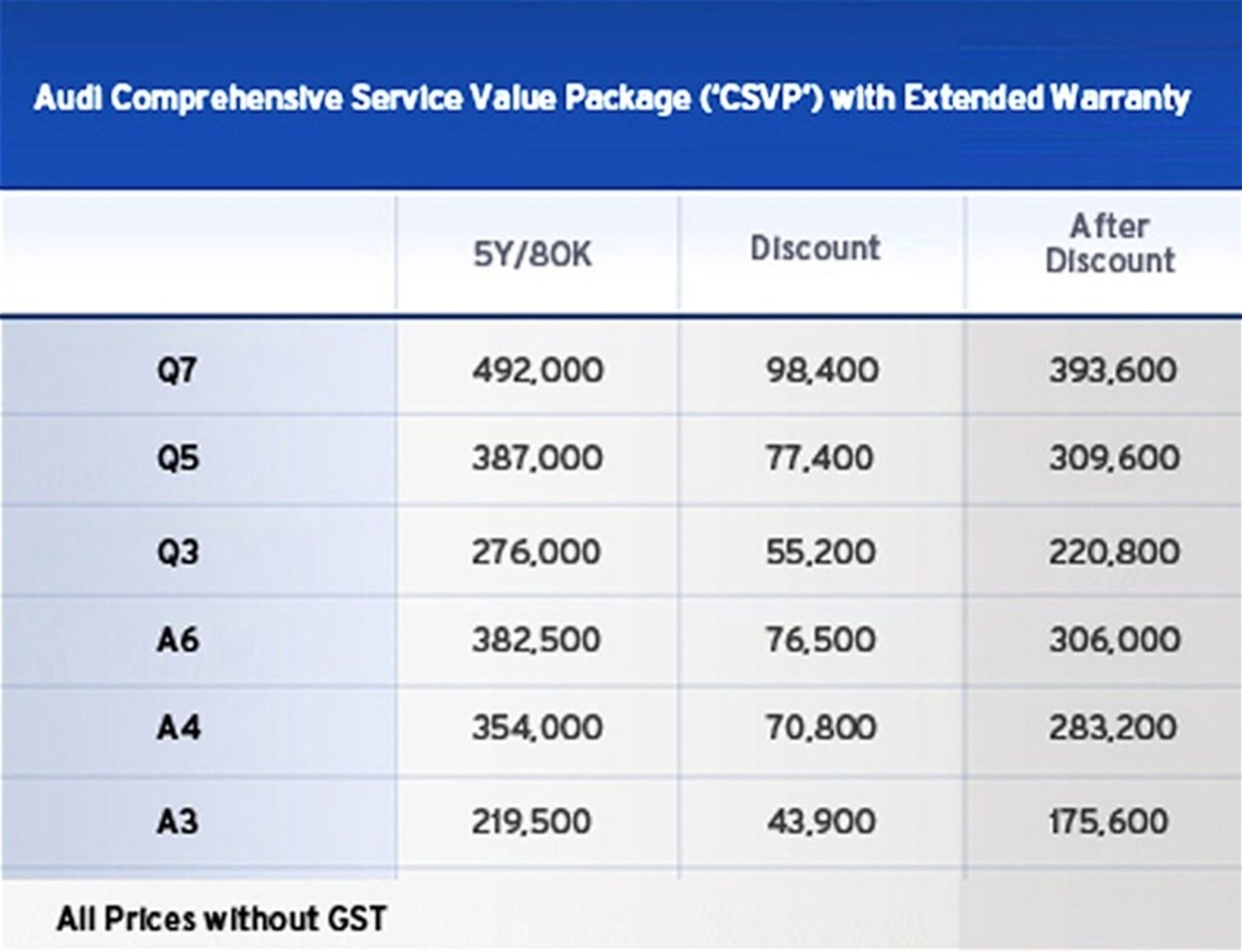 Terms and Conditions:
1. Campaign Period 17th Aug 2020 to 30th Sep 2020.
2. All cars aged 5 years and above as on 1st Oct 2020 are eligible.
3. The Accessory & Collection offer is also applicable on online purchase made on Audi Shop.
4. Cars less than 2 years from delivery date on of Extended Warranty issuance are eligible for the extended warranty scheme.
5. For Brake pads, brake discs and sensors offer is applicable to all cars.
6. Discount is only on Parts and not on labour for the offer on Brake pads, brake discs and sensors.
7. Cars delivered from 01.10.2014 to 31.10.2019 are eligible for the myAudi Connect offer.
8. Extended warranty, service plans & comprehensive plans can be bought by calling or sending email to dealer. No need to visit dealer for buying it.
9. Offer valid till stocks lasts.