Cool and Hot Box, 20 l
Country of Origin
Germany
This item is currently Out of Stock.

Product Details Product Details
For the transportation of cooled or warm drinks and provisions during long journeys.
The thermoelectric cool box for cooled or warm drinks or provisions during long journeys. For example: problem-free transportation of standing 2 litre bottles. The box holds at least 20 litre. The electrical supply is provided by the 12 Volt connection in the vehicle. The box cools to max. 18 °C below ambient temperature and warms to a max. 60 °C. The possibility of replacing the cover with an additional isolation cover increases the usable space for contents by approx. 5 litres. The flexible use of the cool box offers additional stowage possibilities. In addition the Audi genuine cooling and warming box stands out in its specific Audi design.
Technical details
Usable capacity: 20 litre, expandable to max. 24 litre
Net weight: approx. 3 kg
Power supply cable length: approx. 1.50 m
Power supply: 12 Volt
Colour: Black
Items supplied:
Cool box including 12V connection
Carrying strap and operating instructions
Note: Please refer to the information on use and functions in the operating instructions
For models:
A1 (2015-2018)
A1 (2011-2014)
A1 citycarver (since 2020)
A1 Sportback (since 2019)
A1 Sportback (2015-2018)
A1 Sportback (2012-2014)
S1 (2015-2018)
S1 Sportback (2015-2018)
A3 (2017-2018)
A3 (2013-2016)
A3 (2009-2012)
A3 Saloon (since 2021)
A3 Saloon (2017-2020)
A3 Saloon (2014-2016)
A3 Sportback (since 2021)
A3 Sportback (2017-2020)
A3 Sportback (2013-2016)
A3 Sportback (2009-2013)
A3 Cabriolet (2017-2020)
A3 Cabriolet (2015-2016)
A3 Cabriolet (2008-2014)
A3 Sportback TFSI e (since 2021)
A3 Sportback e-tron (2017-2020)
A3 Sportback e-tron (2015-2016)
A3 Sportback g-tron (since 2021)
A3 Sportback g-tron (2017-2020)
A3 Sportback g-tron (2014-2016)
S3 (2017-2020)
S3 (2013-2016)
S3 (2009-2013)
S3 Saloon (since 2021)
S3 Saloon (2017-2020)
S3 Saloon (2014-2016)
S3 Sportback (since 2021)
S3 Sportback (2017-2020)
S3 Sportback (2014-2016)
S3 Sportback (2009-2013)
S3 Cabriolet (2017-2020)
S3 Cabriolet (2015-2016)
RS 3 Saloon (since 2022)
RS 3 Saloon (2017-2020)
RS 3 Sportback (since 2022)
RS 3 Sportback (2017-2020)
RS 3 Sportback (2015-2016)
RS 3 Sportback (2011-2013)
A4 Saloon (since 2020)
A4 Saloon (2016-2019)
A4 Saloon (2013-2015)
A4 Saloon (2008-2012)
A4 Avant (since 2020)
A4 Avant (2016-2019)
A4 Avant (2013-2015)
A4 Avant (2009-2012)
A4 allroad quattro (since 2020)
A4 allroad quattro (2017-2019)
A4 allroad quattro (2012-2016)
A4 allroad quattro (2010-2011)
A4 Avant g-tron (since 2020)
A4 Avant g-tron (2017-2019)
S4 Saloon (since 2020)
S4 Saloon (2017-2019)
S4 Saloon (2013-2015)
S4 Saloon (2009-2012)
S4 Avant (since 2020)
S4 Avant (2017-2019)
S4 Avant (2013-2015)
S4 Avant (2009-2012)
RS 4 Avant (since 2020)
RS 4 Avant (2018-2019)
RS 4 Avant (2013-2015)
A5 Coupé (since 2020)
A5 Coupé (2017-2019)
A5 Coupé (2012-2016)
A5 Coupé (2008-2011)
A5 Sportback (since 2020)
A5 Sportback (2017-2019)
A5 Sportback (2012-2016)
A5 Sportback (2010-2011)
A5 Cabriolet (since 2020)
A5 Cabriolet (2017-2019)
A5 Cabriolet (2012-2017)
A5 Cabriolet (2010-2011)
A5 Sportback g-tron (since 2020)
A5 Sportback g-tron (2017-2019)
S5 Coupé (since 2020)
S5 Coupé (2017-2019)
S5 Coupé (2012-2016)
S5 Coupé (2008-2011)
S5 Sportback (since 2020)
S5 Sportback (2017-2019)
S5 Sportback (2012-2016)
S5 Sportback (2010-2012)
S5 Cabriolet (2017-2019)
S5 Cabriolet (2012-2017)
S5 Cabriolet (2010-2011)
RS 5 Coupé (since 2020)
RS 5 Coupé (2018-2019)
RS 5 Coupé (2013-2017)
RS 5 Coupé (2010-2012)
RS 5 Sportback (since 2020)
RS 5 Sportback (2019-2019)
RS 5 Cabriolet (2013-2016)
A6 Saloon (since 2019)
A6 Saloon (2015-2018)
A6 Saloon (2011-2014)
A6 Saloon (2009-2011)
A6 Avant (since 2019)
A6 Avant (2015-2018)
A6 Avant (2012-2014)
A6 Avant (2009-2011)
A6 allroad quattro (since 2020)
A6 allroad quattro (2015-2018)
A6 allroad quattro (2013-2014)
A6 allroad quattro (2009-2011)
A6 Limousine TFSI e (since 2020)
A6 Saloon hybrid (2012-2014)
A6 Avant TFSI e (since 2020)
S6 Saloon (since 2019)
S6 Saloon (2015-2018)
S6 Saloon (2013-2014)
S6 Saloon (2009-2011)
S6 Avant (since 2019)
S6 Avant (2015-2018)
S6 Avant (2013-2014)
S6 Avant (2009-2011)
RS 6 Saloon (2009-2011)
RS 6 Avant (since 2020)
RS 6 Avant (2015-2018)
RS 6 Avant (2013-2014)
RS 6 Avant (2009-2011)
A7 Sportback (since 2019)
A7 Sportback (2015-2018)
A7 Sportback (2011-2014)
A7 Sportback TFSI e (since 2020)
S7 Sportback (since 2019)
S7 Sportback (2015-2018)
S7 Sportback (2013-2014)
RS 7 Sportback (since 2020)
RS 7 Sportback (2015-2018)
RS 7 Sportback (2014-2014)
A8 (2018-2021)
A8 (2014-2017)
A8 (2010-2013)
A8 L (2018-2021)
A8 L (2014-2017)
A8 L (2010-2013)
A8 TFSI e (2020-2021)
A8 hybrid (2014-2017)
A8 hybrid (2012-2013)
A8 L TFSI e (2020-2021)
A8 L hybrid (2014-2017)
A8 L hybrid (2012-2013)
S8 (2019-2021)
S8 (2014-2017)
S8 (2012-2013)
Q2 (since 2021)
Q2 (2017-2020)
SQ2 (since 2021)
SQ2 (2019-2020)
Q3 (since 2019)
Q3 (2015-2018)
Q3 (2012-2014)
Q3 Sportback (since 2020)
Q3 TFSI e (since 2021)
Q3 Sportback TFSI e (since 2021)
RS Q3 (since 2020)
RS Q3 (2015-2018)
RS Q3 (2014-2014)
RS Q3 Sportback (since 2020)
Q4 e-tron (since 2022)
Q4 Sportback e-tron (since 2022)
Q5 (since 2021)
Q5 (2017-2020)
Q5 (2013-2017)
Q5 (2009-2012)
Q5 Sportback (since 2021)
Q5 TFSI e (since 2021)
Q5 TFSI e (2019-2020)
Q5 hybrid (2013-2017)
Q5 hybrid (2012-2012)
Q5 Sportback TFSI e (since 2021)
SQ5 (since 2021)
SQ5 (2017-2020)
SQ5 (2013-2017)
SQ5 Sportback (since 2021)
Q7 (since 2020)
Q7 (2016-2019)
Q7 (2010-2015)
Q7 e-tron (2016-2019)
Q7 TFSI e (since 2020)
SQ7 (since 2020)
SQ7 (2017-2019)
Q8 (since 2019)
Q8 TFSI e (since 2021)
SQ8 (since 2020)
RS Q8 (since 2020)
e-tron (since 2019)
e-tron Sportback (since 2020)
e-tron S (since 2021)
e-tron S Sportback (since 2021)
e-tron GT (since 2022)
RS e-tron GT (since 2022)
TT Coupé (since 2019)
TT Coupé (2015-2018)
TT Coupé (2011-2014)
TT Roadster (since 2019)
TT Roadster (2015-2018)
TT Roadster (2011-2014)
TTS Coupé (since 2019)
TTS Coupé (2015-2018)
TTS Coupé (2011-2014)
TTS Roadster (since 2019)
TTS Roadster (2015-2018)
TTS Roadster (2011-2014)
TT RS Coupé (since 2019)
TT RS Coupé (2017-2018)
TT RS plus Coupé (2012-2014)
TT RS Coupé (2010-2014)
TT RS Roadster (since 2019)
TT RS Roadster (2017-2018)
TT RS plus Roadster (2012-2014)
TT RS Roadster (2010-2014)
R8 Coupé (since 2019)
R8 Coupé (2016-2018)
R8 Coupé (2013-2015)
R8 Coupé (2007-2012)
R8 Spyder (since 2019)
R8 Spyder (2017-2018)
R8 Spyder (2013-2016)
R8 Spyder (2010-2012)
R8 GT Coupé (2011-2012)
R8 GT Spyder (2011-2012)
e-tron (2019 - 2023 )
e-tron GT (Since 2022)
e-tron S (2021 - 2023)
e-tron S Sportback (2021 - 2023)
e-tron Sportback (2020 - 2023)
Audi Shop Terms and Conditions
Similar Products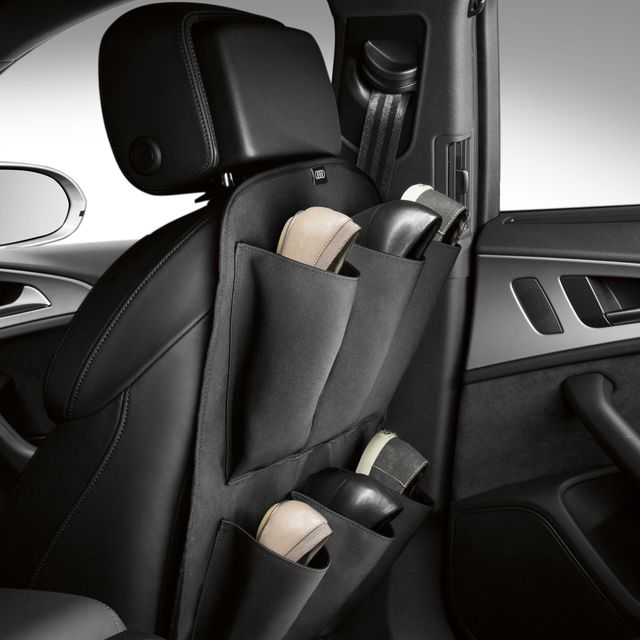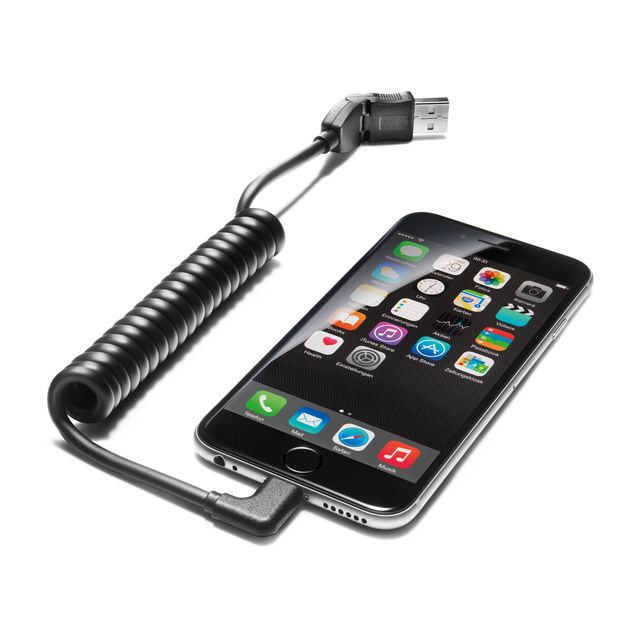 USB Adapter Cable for Mobile Devices with a USB Type-C Port, Angled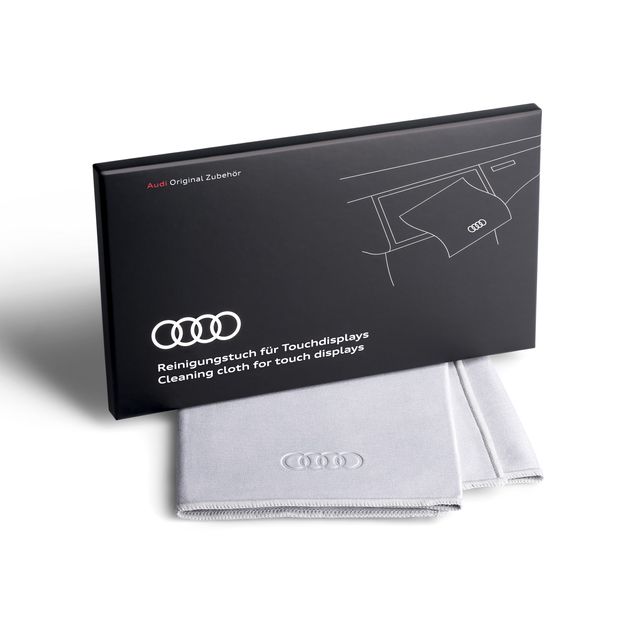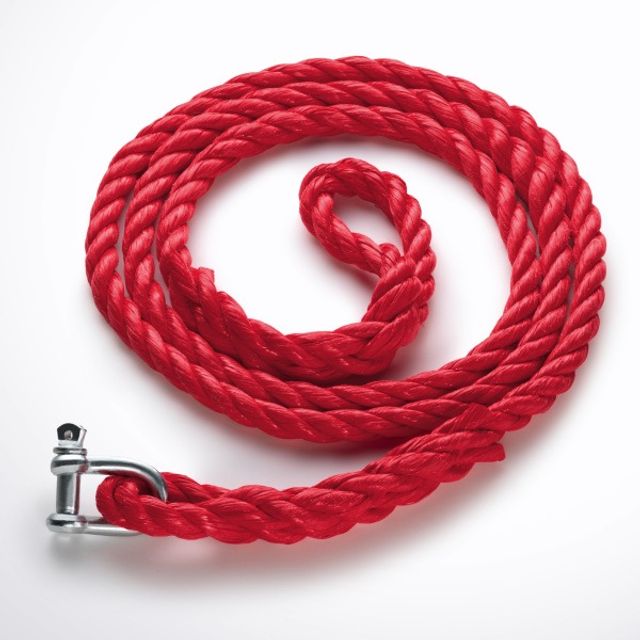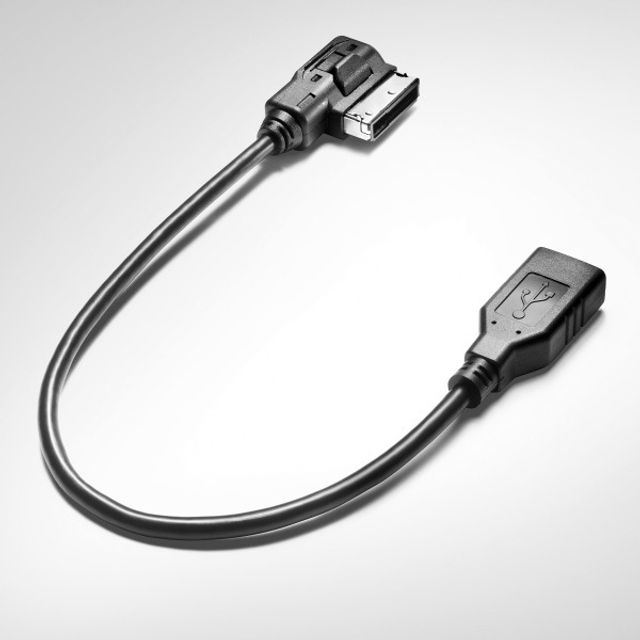 Adapter Cable for the Audi Music Interface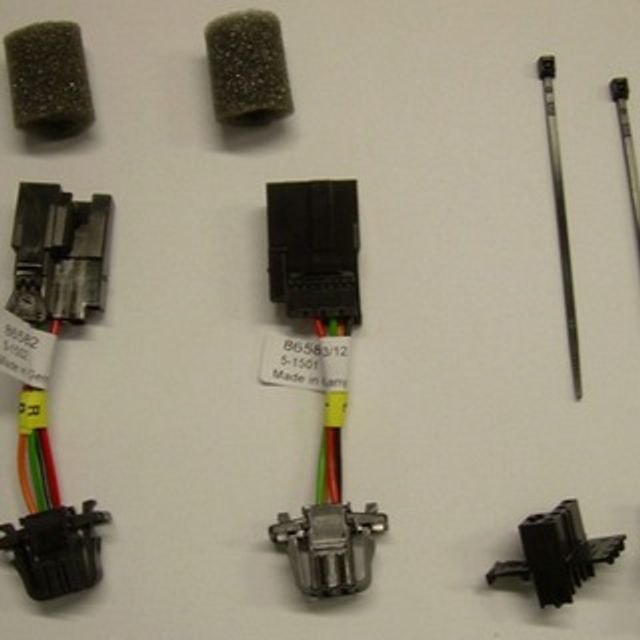 Audi Q3 Adapter Cable Set, LED Rear Light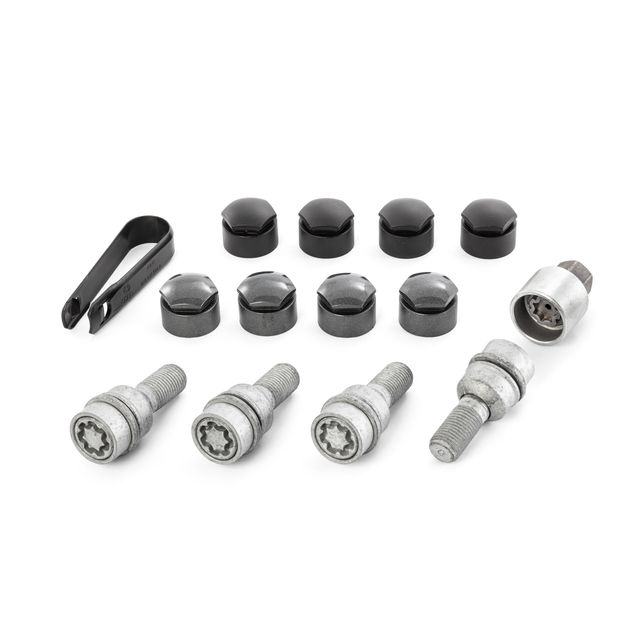 Anti-theft Wheel Bolts, M14 x 1.5 x 45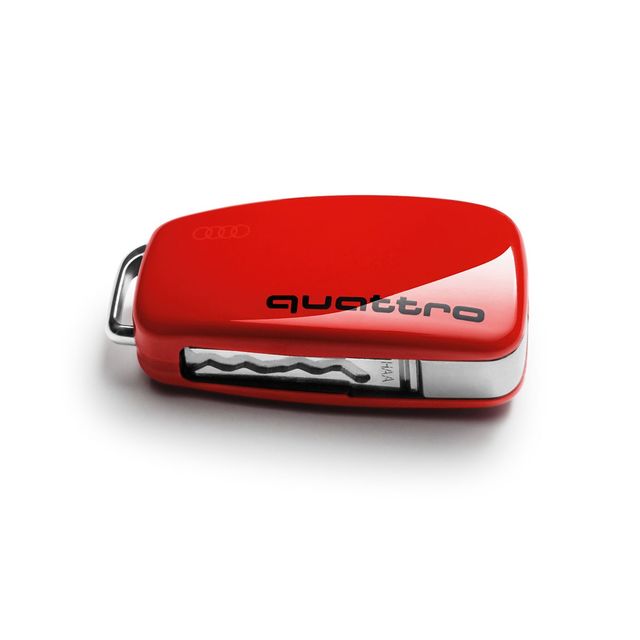 Key Cover with quattro Design, Misano Red